September 12, 2022
Grantee Partner Spotlight: Women on the Rise
by Robyn Hasan
The Ms. Foundation is proud to support our grantee partners, who are at the forefront of organizing and creating solutions that improve people's lives and bring us closer to achieving a true democracy. The insight and perspective they provide is invaluable. The Q&A below was generated by the Executive Director of Women on the Rise, Robyn Hasan.
Women on the Rise is building the political power of formerly-incarcerated women in the metro Atlanta area through organizing, base building, leadership development, and civic engagement. Women On The Rise is an Activist Collaboration & Care Fund grantee partner.
What brought you to this work?
Being formerly incarcerated myself, I have personal experience with and understand the needs of people coming home from prison/jail. As we try to reintegrate into society, the barriers we face are overwhelming. Sometimes these barriers are so intense and frustrating that they lead people down the road of recidivism, or reoffending. I joined this work to change the narrative for women like me who serve their time and pay their debt and then try to come home to live a normal life. What we do is not a life sentence, but we end up serving time on the inside as well as the outside.
How do you connect/collaborate in your community? Key partners?
We are connected with over 50 organizations in the Georgia area and over 25 other organizations nationwide. Our key partners within Georgia are Southern Center for Human Rights, Georgia Latino Alliance for Human Rights, Black Futurist Group, Showing up for Racial Justice, and Legal Action Center.
We work with these organizations to build our collective power and mobilize for abolitionist reforms to the criminal legal system, from ending excessive fines & fees for probation to supporting efforts to end cash bail to repealing municipal offenses that criminalize the poor and land our people behind bars.
What are you learning or what are you teaching?
We are teaching our members to feel empowered to tell their stories in a way that helps others without it being a traumatizing experience. We are also teaching folks about their voting rights.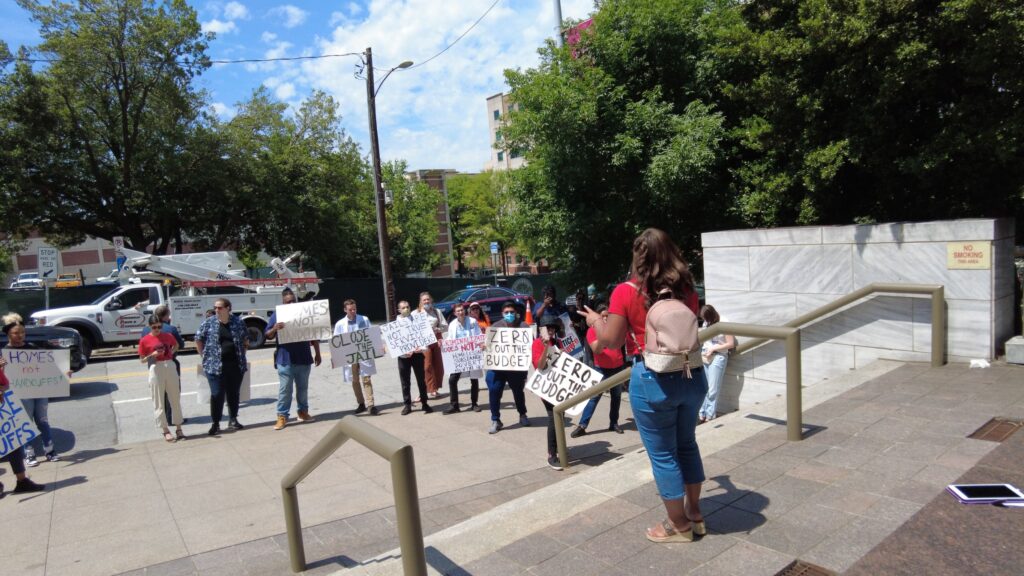 Tell us about a recent victory or something you're proud of.
Women on the Rise co-leads the Communities Over Cages: Close the Jail ATL Campaign to close ACDC, which is Atlanta's extra city jail, and repurpose it into a Center for Wellness & Freedom. This would also reallocate $32.5 million dollars back into our communities. Since winning legislation to close the jail in May of 2019, we have been playing a key leadership role in the Reimagine ACDC Taskforce and community mobilization.
We are very proud of the progress that Repurposing ACDC has made. We're also very proud that the Atlanta Policing Alternatives & Diversion Initiative (PAD) will become part of the reimagined building, offering services instead of punishment for lifestyle offenses. PAD fosters a new approach to community safety and wellness by providing an alternative to punishing people for what they do to survive. Instead, we connect with people as people, address their basic needs, and work with them to reduce harm to themselves and their neighbors.
What do you need from funders or how can people help?
What we need is more funding to support women coming home who need assistance with housing, employment opportunities, and clothing. We need people to support these women while building our base of people ready to tackle the injustices that sent them there.
What gives you hope?
What gives me hope is that people are starting to become more aware of the needs of formerly-incarcerated people. Being a part of the Biden-Harris Criminal Reform Taskforce, we get to see what is happening federally to change the lives of people who have come home from being caged.